but first, thank you for being here!
My most important roles are wife and mom to our boys, but I sure love my career as a Dietitian. I feel so blessed to have found work that I love to do.
It brings me so much joy to help others feel good and live healthier, happier lives. My passion is teaching others how to eat balanced: nourishing their bodies well, and enjoying the foods they love – without guilt.
I want every woman to say hello to balance and goodbye to dieting. Diets are short-term solutions – but your body and your health are with you forever!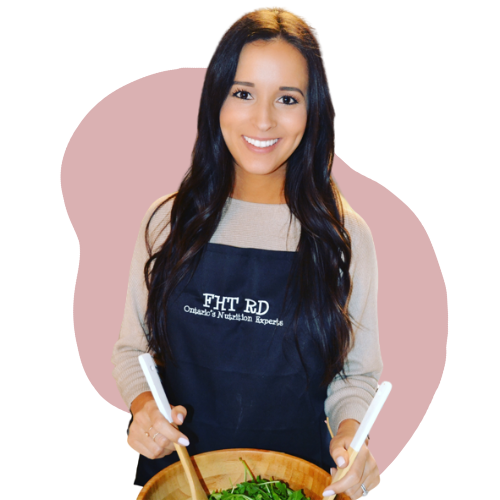 Bachelor of Science in Dietetics
College of Dietitians of Ontario member
Dietitians of Canada member
Diabetes educator
Craving Change certified
Choices and Changes certified
additional training in mindful eating, motivational interviewing and behaviour change
A healthy, balanced lifestyle doesn't have to be so complicated! 
I got the degree so you don't have to! I'll take the complex science of nutrition and turn it into practical advice that is easy to understand.
I've been working as a dietitian for over a decade and most of my clinical experience has been working on interdisciplinary Family Health Teams across Southwestern Ontario.
I've had experience working with clients with a variety of conditions, in different stages of life.
prediabetes
type 2 diabetes
polycystic ovarian syndrome (PCOS)
prenatal nutrition
infant feeding
toddler/child nutrition
high cholesterol
high blood pressure
vegan and vegetarianism
irritable bowel syndrome (IBS)
crohn's disease and ulcerative colitis
celiac disease
food allergy and intolerance
early stage chronic kidney disease
sports nutrition
fatty liver disease
diverticulitis
over-nutrition and malnutrition
I was born and raised in LaSalle, Ontario, Canada and I'm still here! Growing up, my life revolved around softball. I even got the opportunity to compete in the Little League World Series for Team Canada! (#humblebrag)
What better way to get to know me than a list of things that bring me joy?
my kids + husband
time with family and friends

trying a new restaurant

recipe books that double as home decor
skincare
organization
being in the kitchen (bonus points: alone)
helping others transform their life
Costco
reading product reviews
shopping and finding sales
going to church
a relaxing bath with a candle lit
sipping a latte on the front porch
I share a more BTS (behind the scenes) look into my life, meal ideas and shopping finds over on my Instagram. Plus share some of my favourite things in my Amazon storefront! #affiliatemember